What's Poppin': Markets, Festivals and Tours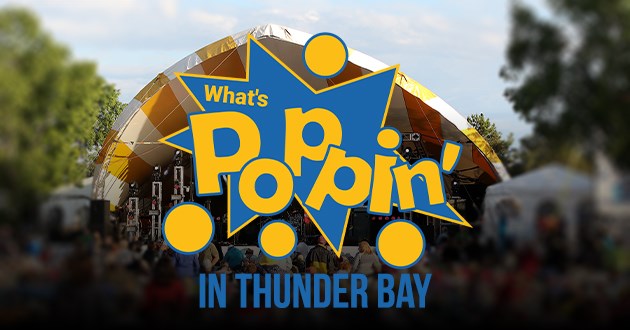 Saturday September 10
Markets:
The Thunder Bay Country Market is open 8 a.m. to 1 p.m. at the Canadian Lakehead Expo: 425 Northern Ave., walk down to buy local groceries, crafts and gifts from the talented and hardworking locals who serve them. have created.
Shop Local Tbay is hosting a back-to-school party and market at Lake Boulevard from 11 a.m. to 4 p.m. Step outside to enjoy entertainment, food vendors, raffles and prizes in support of Our Kids Count. There will also be 9 hidden rocks along the lake to find along with backpacks full of school gifts from local vendors.
Festivals and Fairs:
The Murillo Mutts Family Fall Fair is held at the Murillo Fair Grounds (4557 Oliver Road) from 11 a.m. to 3 p.m. Admission is $3 per family (cash only) to experience food, music and entertainment plus prizes and surprises.
The 18th annual Vox Popular Media Arts Festival runs from September 8 to September 11 at the Definitely Superior Art Gallery in the Old Cumberland Theater at 115 Cumberland St N. The festival will feature films of all genres from North West Ontario, Canada and internationally. There will be concerts, artistic performances and a visual art exhibition, Q&As and discussions with the artists to share knowledge, ideas and experiences. Select films and performances will also be available online during and after the festival. Buy your tickets here.
The Franco Festival, a family event celebrating the diverse Francophone cultures of Thunder Bay and the NWO, is held at 234 Van Norman Street from 2 p.m. to 7 p.m. Hop off and learn more about the local French-speaking cultures.
Sports:
It's day two of the Shuniah Forty Miner presented by Tbaytel, a two-day celebration of Thunder Bay's mountain bike trails located at Kinsmen Park in the beautiful Trowbridge Forest. The featured event is an XC Marathon mountain bike race. Categories include a 12km, 24km, 48km and 5km youth mini-minors race. Learn more here.
Visits:
Come explore our roots in agriculture with Doors Open Thunder Bay! Discover the rich history, culture and community initiatives of Thunder Bay and the region by visiting some of our most unique architectural structures, agricultural landscapes and heritage sites – all free. Event details and participating venues are available at Doors Open Ontario website.
Live music:
Wiggins Productions proudly presents Divas & Legends Drag Cover Show at Black Pirates Pub. After a short summer break, these Thunder Bay drag performers are back for one of their favorite shows! Join the #tbaydrag queens and kings as they pay tribute to some of the biggest pop divas and rock legends at the Divas & Legends Drag Cover Show! Doors open at 9 p.m. The show starts at 10 p.m. 19+ (valid ID required)
Sunday September 11
Live music:
Legendary Canadian rockers Killer Dwarfs return to Thunder Bay for the first time in nearly 2 decades at Black Pirates Pub! Joining the bill is 12 Gauge Prayer and V3nom!! Advance tickets $25 plus fees. 19+ doors open at 8 p.m.
If you know what's happening over the coming weekends, let us know by emailing us at [email protected]! be sure to include as much information as possible!