Stuck between a rock and a hard place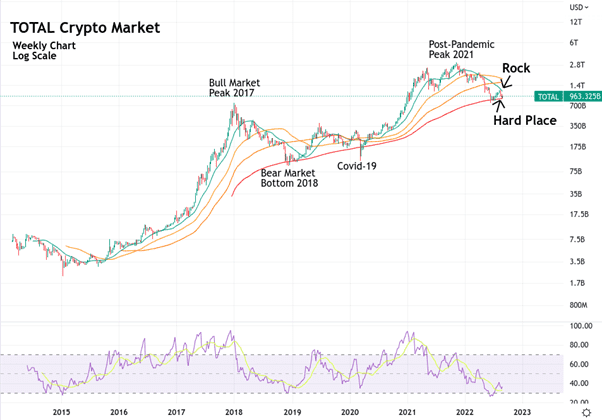 Those of you who have followed the fate of crypto since its peak last November will be well aware of the pain crypto investors have endured throughout 2022.
From peak to trough, looking at the aggregate performance of the entire crypto market (TradingView ticker: TOTAL), it lost around 75% of its value between November 2021 and June 2022, with the market currently down around 68% from that November peak.
What is most concerning about this situation is that cryptocurrency assets seem to have gone through most of their own bear market and seem to have bottomed out, technically speaking. However, the US stock markets and crypto have been so closely correlated since the pandemic, still seem to have another downside in store for investors. Powell's recent speech in Jackson Hole does not appear to have contributed to this perception, and many would say that was his goal.
This begs the question: if crypto is at rock bottom, but other risky assets are not, what will happen to the crypto, should those other risky assets undergo another stage? down ? The answer is that they will probably go down as well, which makes the prospect of choosing a crypto fund a somewhat onerous task at the moment.
We saw this before the pandemic, when the crypto had, once again, gone through a whole bear market, losing almost 90% of its value between December 2017 and December 2018. Then the first half of 2019 saw the crypto rally to recover some of its critical levels, only for the COVID-19 crash to send the asset class back to test levels that were more than a year old at the time.
In the image above, you can see the real rock and anvil between which the crypto markets are currently trading. As support you have the 200-week moving average (red line), a level that has always been the all-time low for the crypto, as the asset class has never traded significantly below this level. .
As resistance, you have the 20-week moving average (green line). This is another important level for the crypto, as periods above this line usually occur during extended bull markets. For obvious reasons, you probably haven't heard much about this 20-week MA lately. Crypto markets definitely went below in January of this year and then failed to top it in April. On the downside, the 20-week MA tends to cap each rally, setting lower long-term highs as price declines.
With the last failed test of this 20-week MA in August, we have a situation where price gets stuck between these two crucial long-term moving averages as the green line descends towards the red line. This should force a pause in the coming weeks, but the direction of that pause is highly uncertain.
Trade cryptocurrencies, as well as other CFDs and forex currency pairs, with HYCM.