More to the story: Rossville Markets will continue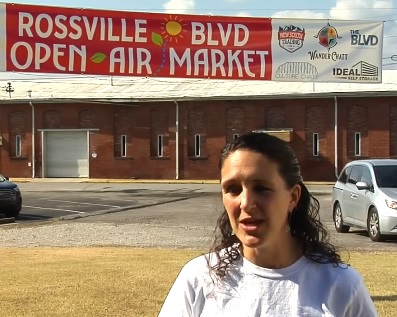 Dave learns about the future of outdoor markets in Rossville
ROSSVILLE, Ga. (WDEF) – This is Heather Herweyer. Marking vendor locations for the upcoming Rossville Boulevard outdoor market.
Yes, they will continue. Organizers say markets so far near the state line have gone even better than expected!
" We were pleasantly surprised. We thought if 50 people came out, we would call it a success. Our first market had over 300 people. We were blown away by the support.
JULIE SIMPSON, PLANNING COMMITTEE;
"We were surprised by the summer series. We thought that would be it. But with positive energy and feedback, well, it kept us going.
Herweyer and Julie Simpson were on the ground floor of the BLVD project. With the Rossville Downtown Development Authority. These outdoor markets are just part of what they do. Because the ultimate goal is not to raise money. But looking for improvements…..in all aspects of the Rossville Boulevard Corridor.
And according to a recent survey conducted by the organizers, the markets are moving in the right direction.
HEATHER HERWEYER, PROJECT DIRECTOR;
"People want to see more sellers. They tell us to continue. Over 80% said that if a monthly market took place, they would keep coming back! »
JULIE SIMPSON, PLANNING COMMITTEE;
"We have such a positive vibe. People love the food and the vendors. We are delighted and the people too.
Considering what Rossville Boulevard once was, some have called it "the boulevard of shattered dreams."
Walking continues to change that.
From Rossville, Dave Staley, News 12.