Markets are likely to fall | invest.com The and ended the week down about 5% and 6%, respectively. It's hard to find many positives in this market, especially with what's happening in real rates.
Options expiration kept things from getting bad on Friday; with $390 being the big gamma level on the ETF, put owners were eager to sell their puts until the end of days once it became clear that the S&P 500 was unable to to break the support at 3,840. So that left the market with a late afternoon rally.
Friday's internals were pretty bad though, especially on the Nasdaq, with 451 more new lows on the day than new highs. It was the lowest reading since early July.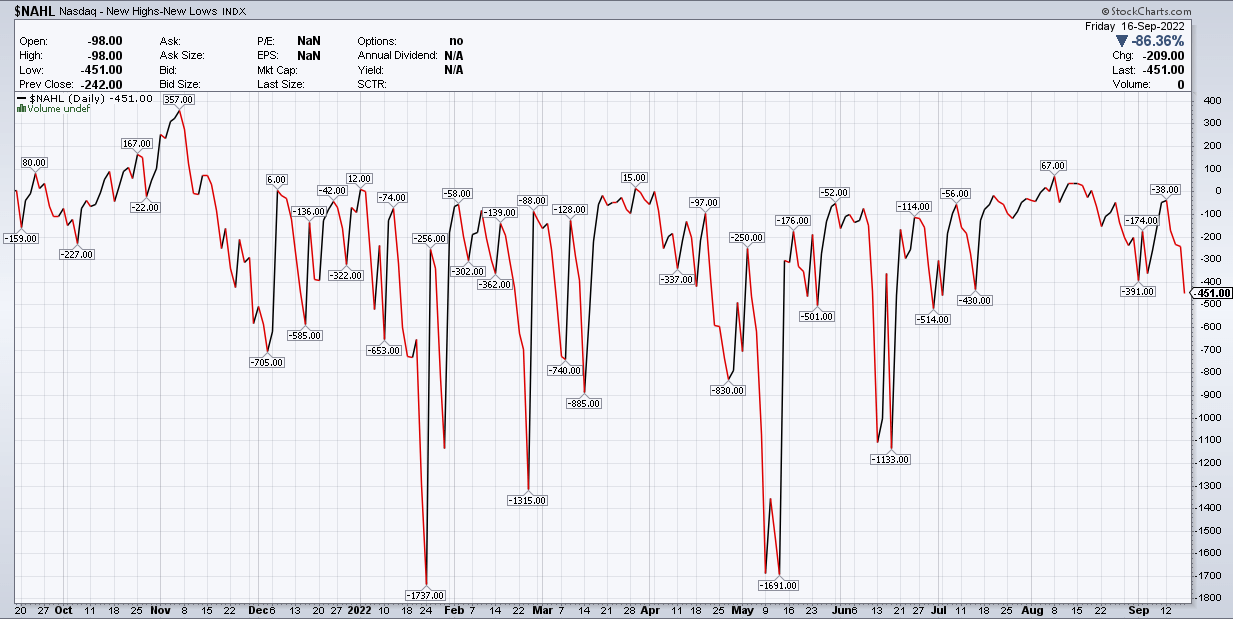 More importantly, the new cumulative high minus the new low shows another new low being me on the cumulative count. This is something that I don't see as positive for the market as a whole and it's just another warning sign that new lows are coming to this market sooner rather than later.
QQQ vs. POINT
The ETF is about 12 days late, and the QQQ drop is coming as expected. Based on the TIP, the QQQ is unlikely to experience a rebound anytime soon either.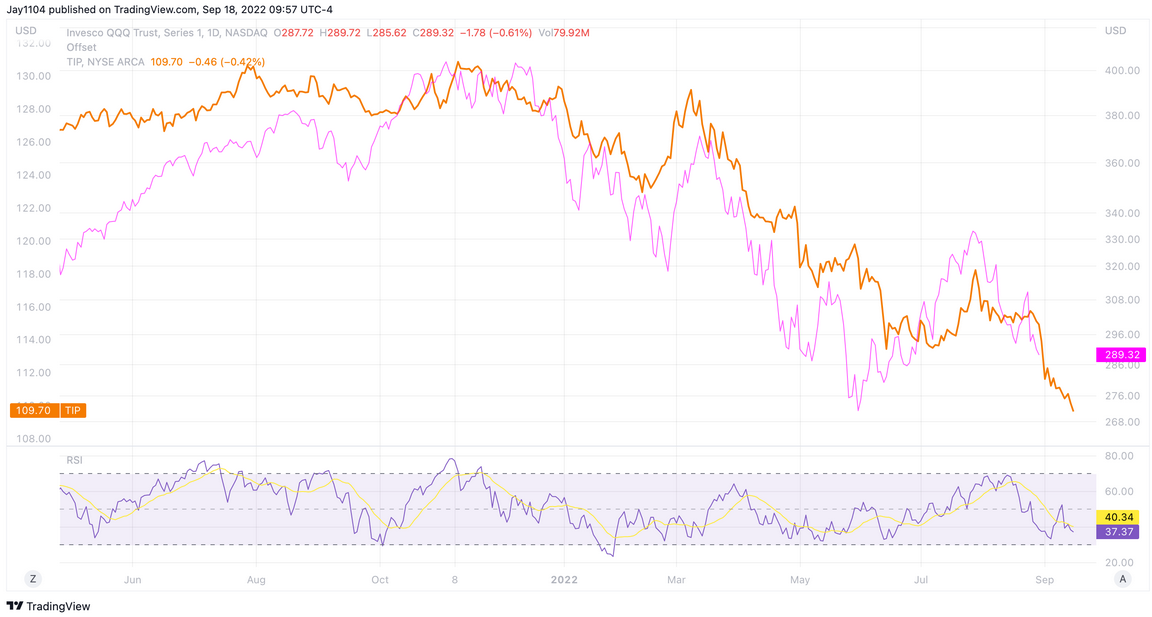 S&P500
As for where the market is going this week, I've decided to try not to predict the weekly market moves this week as I don't want it to be confused with my belief that the market will heading towards the June lows, and I believe there is a good chance that they will reach new lows. Moreover, the 2008 analog suggests that by October 25, the outlook for the S&P 500 and Nasdaq could be brutally painful.

Zoom
Zoom Video (NASDAQ:) is the poster child for stocks hitting new lows on the Nasdaq, as Zoom, in my opinion, has been one of the biggest leading indicators of overall market action. No surprise as Zoom just made a new low on Friday. That said, Zoom probably isn't done falling either, with the next major support at $76.45 and then $70.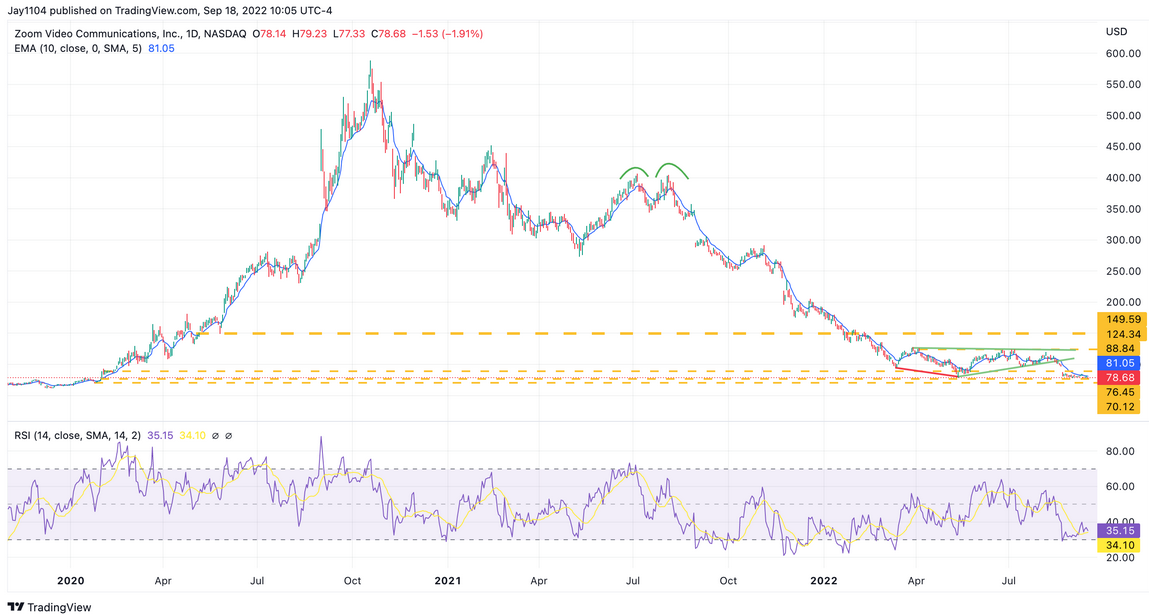 Emerging Markets
If you want to see the effects of a global strong, look no further than the ETF, which hit a new low on Friday and is likely heading even lower. The support at $38 is broken and the next level of support does not arrive until $36.45.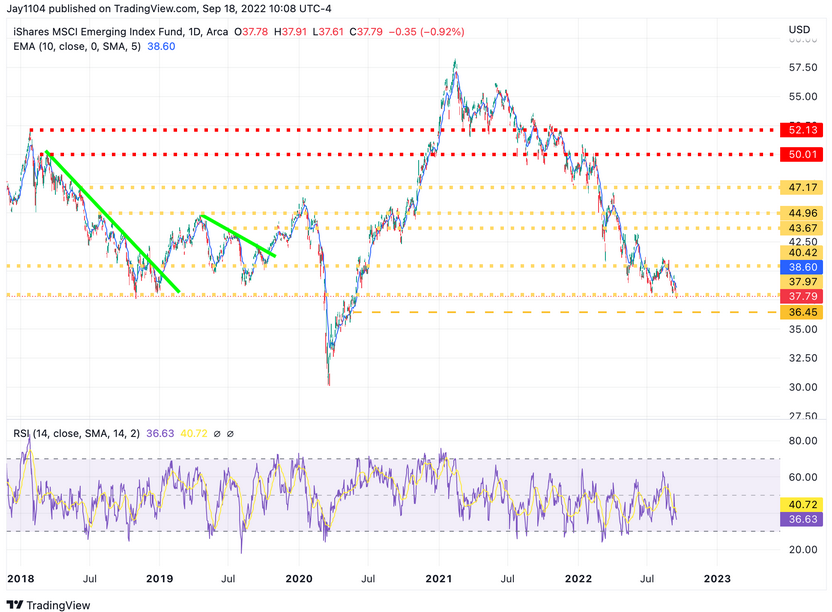 DocuSign
DocuSign (NASDAQ:) surged after its , but that stock is no different from Zoom, and those gains are quickly melting away. Like Zoom, Docusign will likely be added to Nasdaq stocks, making new lows very soon. There is no support up to $46.85.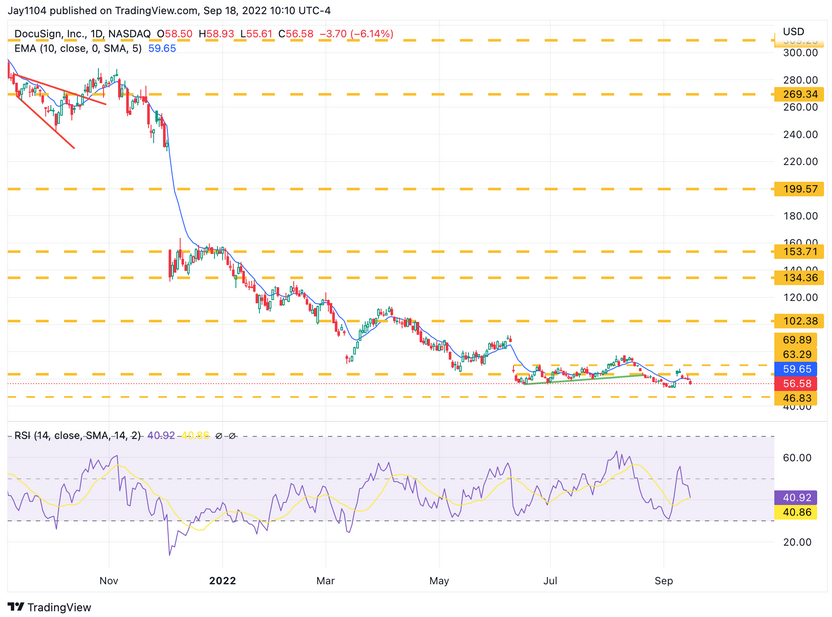 DoorDash
DoorDash (NYSE:) is preparing to climb the stairway to heaven with this massive descending triangle sitting just above support at $56.80. DoorDash will likely be another title added to the growing list of titles making new lows.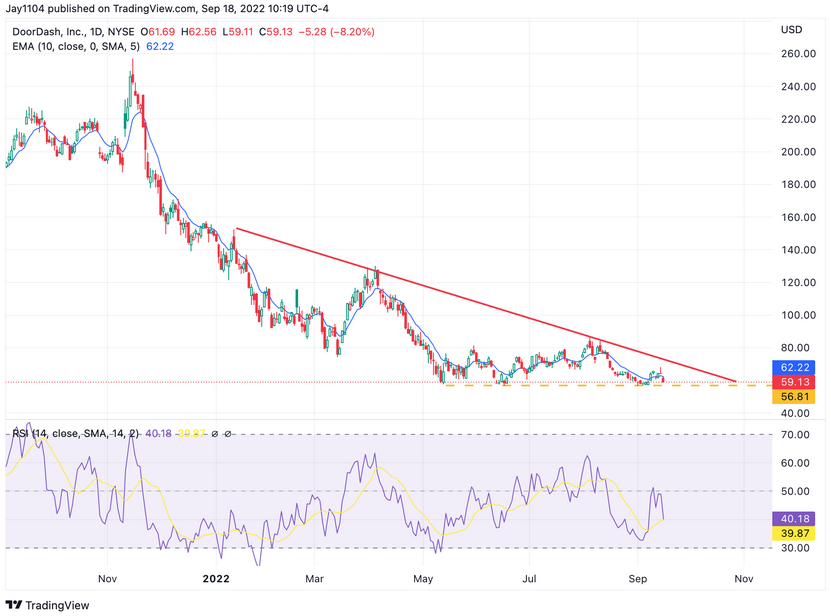 Either way, it's going to be a big week, with the Fed and all; Good luck.