Here's why U.S. stock markets will post new all-time highs
A major bearish technical indicator has been invalidated, or neutralized, on the weekly stock charts. This is called a false breakdown or a fake out. Some are already calling last week's event a bear trap. Buy dip is back baby!
Barring a major black swan event, primarily anything related to the geopolitical side of things, we should expect US equity markets to hit new all-time highs.
Let's start with the fundamentals first, but before that, let me show you two markets that are already posting new all-time highs!
Both the Canadian TSX and the Norwegian OBX are posting new all-time highs. In the case of the TSX, an important range was broken. Now it's about retesting and continuing higher.
These two markets are known for their heavy energy/oil mix. Thanks to oil that is back above $110 a barrel at the time of writing on March 21, 2022, the TSX and OBX are entering new territory.
Just a month ago I wrote a technical article titled "Make or Break Week for Markets" where I detailed the major reversal patterns. For an international perspective, I made the same technical breakdown on non-US markets. The TSX is the only market in the group that has not fallen below major support.
When it comes to WHY US stock markets will post new highs, it really comes down to two things: inflation and cheap money. Inflation stood at 7.9% last month, not to mention the wild rise in oil and food prices due to the current geopolitical tension. Inflation will continue to rise because it is a monetary phenomenon. Money supply and velocity must be reduced. Or, the Fed and other central banks will have to raise rates above the rate of inflation.
Neither will happen in my opinion, as it would bring down the whole debt-based economic system.
There's been a lot of talk about the Fed raising rates several times this year…but if you look at the stock markets, gold and the US dollar…these markets aren't really screaming 6 rate hikes this year. In fact, I don't think the markets are expecting that many increases this year. I get my signal from the debt markets: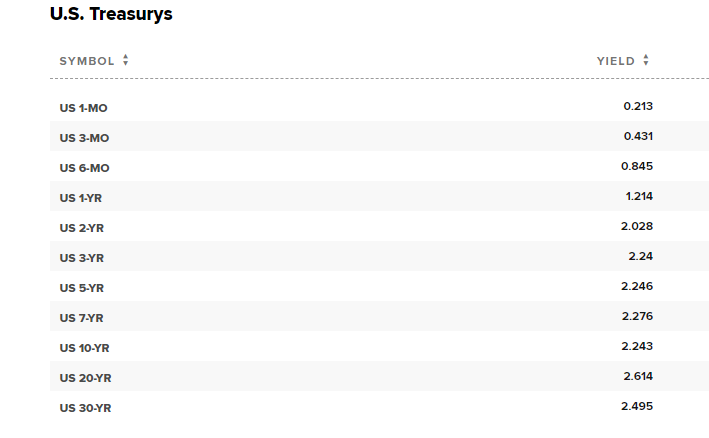 We are already starting to see signs of an inverted yield curve, a sign that a recession is approaching. The 7 and 10 have reversed, and so have the 20 and 30. I keep my eyes on the 2 and the 10.
Seriously, there's so much debt out there that several Fed rate hikes could even cause a recession. So much so that the Fed may even have to reverse its policy sooner than expected. If so, how can the Fed control inflation?
The cheap money will continue and stocks will continue to win a bid as they become one of the only places to go to generate real return. For this reason, stocks tend to do well in an inflationary environment.
But now, let's discuss the technical reason why stock markets will hit new highs. As mentioned earlier, a bear market breakout signal has been invalidated.
Two weeks ago, we triggered a head and shoulders reversal pattern. It didn't look good. But as we know with ALL blowouts and failures, a retest always happens. Price pulls back to retest the breakdown zone, giving sellers another opportunity to go short. Those who are short have placed their stop losses above the breakdown zone. Previous highs and then new all-time highs come next.
Last week, the S&P 500 failed the new test. Great for bulls, bad for bears. We closed the back above the neckline of the head and shoulders. 4300 now becomes a new medium.
For you traders, we even confirmed a nice breakout of the trendline last week. The pullbacks just set a higher low as long as price remains above 4300. I have a long swing trade and will be looking to add to my position. Similar patterns on the Dow Jones and Nasdaq.